Cowes to Sandown
Events > Archive



You can see some pictures of NCN23 over the last 10 years in our Gallery. If you have any pictures of NCN23 over the last 10 years, please share them with us.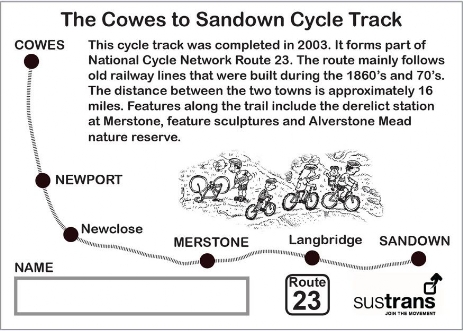 Press Release 25th June

Cycle Event to commemorate the 10 th anniversary of the opening of the Cowes to Sandown cycle track 22 nd June


Cyclists of all abilities supported the CycleWight event celebrating the 10 th anniversary of the opening of the Cowes to Sandown track.

Over 70 people took part in the ride, the cold and windy weather not deterring the enthusiastic participants. Riders were encouraged to ride all or part of the Cowes to Sandown track. Many of the riders obtained a commemorative card and collected stickers as they visited the various checkpoints on the route.

The riders spanned those who cycle a 1,000 miles a month to those who made a day out of it, cycling for the first time for many years. Family groups were much in evidence, many taking advantage of the ice creams at Merstone provided by Plaza Ice Creams of Cowes. Other refreshment points along the route were at Rosemary Cottage in Langbridge and Newclose Cricket Club. Both proved to be very popular.

For many the wide range of wildlife to be seen along the route further enhanced the day.

Val Lawson, a committee member of CycleWight said, "We are very grateful for the large number of people who supported us whether it was catering, advertising the event or issuing the cards and stickers."

Several people took advantage of free bike hire provided by Wight Cycle Hire. One of those was Julie Jones who had not cycled for several years. She said, "A group of us have had a fantastic day, the bikes were so good it was much more fun than I thought" Julie went on to say she would invite friends from the mainland to ride the track with her in the future.

The route which is part of the 10,000 mile National Cycle Network, has seen various of improvements since its opening, with the Newport Cross Town Route, being completed last year.


CycleWight are keen to ensure that such provision is maintained and improved. The cycle tracks are a benefit for residents who can access the countryside easily as well as provide tourists with an opportunity to take advantage of the Island's beauty.