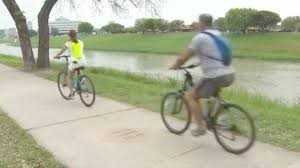 Who knew what social distancing was four months ago? All indications are that it is likely to be a part of our lives for some time to come. In some places social distancing is already difficult with narrow footways and cycleways making it awkward for people to move safely and in a socially responsible way. At present people walking and cycling are able to make use of space in many areas due to the very low traffic volumes. As lockdown begin to be eased, it is imperative that measures are put in place to enable effective social distancing and keep people safe.
We have written to the Council with some ideas on how this could be achieved. They include: removing some parking places to give more room to pedestrians in shopping streets; exclude cars where roads are narrow, e.g. Little London, to make some roads 20mph to make it safer for cyclists and pedestrians, keeping footpaths and cycle tracks cut back.
This is happening all over the world. Here is a link to a story from Leicester which demonstrates a successful project in the UK.
Leicester key workers
. On the Island, the Council's Access Fund has launched a scheme to hire bikes to key workers. This has been very successful with over 60 bikes borrowed in just a couple of weeks.
This is an opportunity to make walking and cycling more accessible to everyone.