CycleWight was formed to campaign for better cycle provision on the Island. We work with any organisation or individual that wishes to work towards that goal. The group also participates in ways to encourage more people of all ages to learn of the joys and benefits of cycling.


Cyclists' Breakfast

Blessed by excellent weather CycleWight organised a Cyclists' Breakfast as part of the Festival. About 85 people stopped to have some croissants, orange juice, tea, coffee fruit etc. A wide variety of riders took part including several children. Sited at the intersection of NCN routes 22/23 it was truly amazing how many cyclists use both routes. Many were too busy to stop, which was a great shame. It was particularly pleasing to see how many people use the cross Newport route. CW would like to thank Marie Louise White from the Council, the Health Promotion Team and Peter and Nola Gould who assisted us with putting on the event. It was so popular some people asked to do it once a week!!!!!


CYCLEWight Blog
The CYCLEWight Blog is available here for you to leave comments online on existing topics. All we ask is that posts are relevant to CYCLEWights mission statement.
Forum

The Cycle Forum takes place on 21st October. This is where groups interested in cycling can come forward to share their views. It is an opportunity to raise issues and look for solutions. Regular attendees include retail organisations, Road Safety, Police, the cycling groups etc. Topics for discussion will include road safety, future events, the cycle festival 2015 and the Local Sustainable Transport Fund for 2015.
The Forum was begun by the Council but when they decided they no longer wanted to be actively involved CW took over its running. It has been very successful with 15/20 people attending each meeting. Council officers attend each time as they now see it as an important way to garner views and opinions about a variety of issues.
If you would like to attend please contact us through the web site. The minutes of the last meeting held on the 6th June are available to read HERE...


The Cycle Festival - 13th-28th Sept

The Festival is to be retained for the time being though the funding support has been reduced. The launch of the Festival is on the 13th Sept. St James' Square is to be closed to traffic and a variety of entertainment has been provided including Scalectrix powered by cycling. Many boys dreams! CW will be there - so pop in for a chat. The Cycle Cinema has been booked and will be showing "Despicable Me 2". It is at Seaclose Park at 19.00 it is hoped even more families will attend this year. More information HERE


Panniers

Wight Cycle Hire has some panniers that they no longer need. They could be yours if you wish to pop into the shop in Station Road, Yarmouth and make a donation to CycleWight.


LSTF News

Work has now finished on the route between Quarr and Ryde. A much improved surface should make it more accessible for all users and for more of the year.
The work on the route up from Medina to Island Harbour is underway and will be a vast improvement to what was there before. It is not ideal but it does mean with a very small bit on the main road it will be possible to to gain a quieter cycle to Whippingham and E. Cowes via old East Cowes Road and then onto to Alverstone Road.


West Wight Wheelers


This is a new group formed based in the Freshwater and Yarmouth area. They have started to organise regular rides on Wednesdays and Sundays normally covering 20 to 30 miles. Its major aim is to be as inclusive as possible and all levels of riders are welcome. They have a club top – so look out for them. More details on Strava or contact Adrian on 01983-761521.


Space For Cycling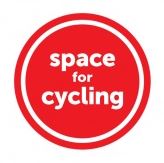 The CTC has launched a campaign called Space for Cycling. The reason behind this is to "create conditions where anyone can cycle anywhere". There are six main points;
1. Protected space on main roads
2. Removing through motor traffic in residential areas
3. Lower speed limits
4. Cycle-friendly town centres
5. Safe routes to school
6. Routes through green spaces
We will all agree this list would be difficult to achieve. But more could be done if these points were a focal point of future planning and when works are carried out on the Island.
There is a link on the CTC web site which will allow you to send a letter to your local Councillor asking them to support these principles. It is very easy to use. It allows you to modify the letter to give it a more local slant; so it is not just someone pressing send!
http://www.ctc.org.uk/campaign/space-for-cycling
There are over 500 followers on IoW Cycling Facebook page. Guess what impact it would have if just 100 of them sent the email


Cycle Recycle

Any unwanted bikes can be taken to 'Innerspaces', 79 Place Rd Cowes 8:30 - 5:30 Mon - Fri, Sat 9:00 - 5:00 and Sun 10:00 - 4:00. The bikes are taken to the mainland then shipped to Africa where they provide people with transport


Make Cycling Safer

CycleWight has met on several occasions with a group of riders who are concerned with some of the dangers of riding on the Island's roads. It has been refreshing to meet with a different group of people who we have not previously contact with CycleWight. With our encouragement ten of them have written to the Council explaining their views of cycling regularly. We are looking at further ways to raise awareness of this issue. As has been previously mentioned there have been several ideas including stickers in the backs of cars, a t shirt campaign, taking councillors out on a ride and an article in the County Press which highlights some of the issues faced by cyclists. Any ideas would be welcome.


Signs on Cycle Tracks
Many of you will know that the signs at the entrance to the cycle tracks have led to much unhappiness amongst cyclists. We wrote to the council and provided some alternatives that we felt were more acceptable to all users. We are glad to report that our views were heard and some new signs will slowly appear in the coming months.

Road Traffic Police
You can follow the IOW traffic police on Twitter #iowpolroads. They provide a twitter feed that can be very useful and informative. The Assistant Police Commissioner, who has the Isle of Wight as part of her responsibility, is now following us on Twitter. An instant way to let someone know the issues of cycling safety.

Using The CYCLEWight Calendar Below
If you click on an event, you may find additional information, or a link to the location of the event. You can easily add these events to your own Google calendar