CYCLEWight is an advocacy group that seeks better cycle provision on the Island. We will cooperate with any organisation or individual that wishes to work towards that goal. The group participates in ways to encourage more people of all ages to learn of the joys and benefits of cycling.


The Sustainability Committee
CycleWight were invited to attend the Sustainability Committee with other groups to discuss the Rights of Way network. There is a need for the council to draw up a 10 year plan which will be from 2016. The committee has asked all the various parties to make a list of paths that they think are missing or need to be upgraded so as to enhance the provision. We are to attend the next meeting where the collated results will be revealed!. There were many groups and bodies attending but it is groups like ourselves, the Ramblers and Bridleways group who are the users and so do have the most knowledge of the needs of residents.
As part of the meeting the groups were asked to identify what skills they could offer and possible funding schemes. No doubt more information to follow. The council is much maligned, but the present administration are refreshing in their willingness to consult with user groups.
LSTF/ Bicycle Island gallery

Race Series comes to the Island
As we all now know there is to be a road race on the Island as part of the 2015 Pearl Izumi Series. it will take place on
Thursday 14
th
May, f
rom 12 to 3. It is hoped for there to be an event for school parties. From 3 till 4 there is to be time trial by the competitors. This is because it is the first race of the season. From 4 till 6 there will be an opportunity for locals to have a go. This part of the day still needs some more assistance from local cyclists. Finally the race. This will be from 7pm and will last about an hour and a quarter. If you would be willing be involved in helping organise the afternoon session or marshall at some time during the day please contact
Mari Louise White
MariLouise.White@IOW.gov.uk
Good News
.
A CycleWight correspondent went to meet Dave Wright of Cowes. He is proposing to use the small shop by the Floating Bridge in West Cowes as a cycle facility. He is going to call it "Pit Stop" so people can pop in and buy cycling essentials such as inner tubes, puncture repair kits and coffee. He is to have a work shop on the other side of the road for people to get their bikes fixed. "It is a great spot as it is on the Round the Island Route," said Dave. It should be a real asset to the Island community as well as tourists. A great initiative.
Cycle Recycle

Any unwanted bikes can be taken to 'Innerspaces', 79 Place Rd Cowes 8:30 - 5:30 Mon - Fri, Sat 9:00 - 5:00 and Sun 10:00 - 4:00. The bikes are taken to the mainland then shipped to Africa where they provide people with transport


Make Cycling Safer

CycleWight has met with several groups of riders who are concerned with the dangers of riding on the Island's roads. It has been refreshing to meet with people who we have not previously had contact . With our encouragement ten of them have written to the Council explaining their views on cycling regularly on the roads and the issues they face.
We are looking at further ways to raise awareness of this issue. As has been previously mentioned there have been several ideas including stickers in the backs of cars, a 'T' shirt campaign, taking councillors out on a ride and an article in the County Press which highlights some of the issues faced by cyclists. Any ideas would be welcome.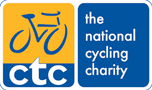 All cyclists need to report any defects in road surfaces.
The CYCLEWight committee suggest that you use the
campaign on the CTC website to report dangerous road conditions. The Government have given the CTC £30,000 to develop this app further.
Several people have left the committee of late. We could do with some fresh blood. We meet as a group approximately once a month. It is not onerous. It would be good to be able to hear differing views. The amount of work you take on is up to you but it is always good for the work to be shared around.
Using The CYCLEWight Calendar Below

If you click on an event, you may find additional information, or a link to the location of the event. You can easily add these events to your own Google calendar