CYCLEWight is an advocacy group that seeks better cycle provision on the Island. We will cooperate with any organisation or individual that wishes to work towards that goal. The group participates in ways to encourage more people of all ages to learn of the joys and benefits of cycling.


Something New
There is a constant search for new routes and to gain more access to the countryside. For the last few years there has been a stewardship scheme where landowners are given funds to allow access to their land with footpaths and bridleways. The list of of the temporary rights of way are not well known. They can found at
https://www.iwight.com/Residents/Environment-Planning-and-Waste/Rights-of-Way/Public-Rights-of-Way/Open-Access-Land1
CycleWight would like to remind everyone that riding a bike is only permitted on the Bridleways on this list. Each agreement only lasts a specified time and the whole scheme will end in 2020. This is an opportunity for people to view areas of the Island that may well have not seen before.
Fantastic News
It has been reported that over 200,00 trips have been made on 3 of the new paths that have been created/upgraded in the last year. As part of the Local Sustainable Transport Fund the Council installed cycle counters and in two cases one for pedestrians. Figures issued show from June 2014, nearly 90,000 trips have been made on the Newport to Cowes route, 82,000 trips have taken place on the Yarmouth to Freshwater route and 44,000 have been made on the disused Wroxall to Shanklin railway line. Next time you write to your Councillor about something linked to cycling quote these figures. In fact write to your Councillor and mention these figures!
T
he long awaited Pearl Izumi event took place at Ryde. The weather was far from helpful but at the critical time it was dry. For those who were there it was an amazing event - a real spectacle. An intrepid reporter spoke to some of the teams at the end. They said it was a hard course made more difficult because of the wet surface.
The Business race , an opportunity for local people to have a go was excellent with Wight Mountain winning. Come on lads if a bike shop did not win it would have been a poor show.
Visit IoW made the most of such a prestigious event by having the film crew travel the Island a couple of day before looking at various places. Thankfully it was bright sunshine!
Congratulations must go to Tom, at Visit IoW, Ryde and IW Councils. Much maligned but well done to Island roads who managed to finish the circuit and provided much of the essential support for the evening. Let's us not forget the other stewards who gave up their time and finally the residents of Ryde whose lives were disrupted for a few days.
Medina Greenway

The Medina Greenway was opened at the end of February. The path, runs between Seaclose Park and Island Harbour, i
t was part of the LSTF fund and cost £600,000. No excavation was undertaken during the construction as it is in a designated area, which meant existing tree roots were protected. The paths construction allows for surface water to pass through the gravel layers maintaining supply to the trees and should prevent roots lifting the surface of the track. There are a series of sculptures along the track as well as an information board.
The owners of Island Harbour finished off the track by building a path on their land, which was done voluntarily. There is a café at Island Harbour, called Breeze, which hopefully will become busier as the summer comes.
Well done to the large number of people involved in making it happen.
LSTF/ Bicycle Island gallery

Friends from the mainland are great but do you want them staying with you for a week! We have been contacted by two new new places offering cycle friendly accommodation.
The Sustainability Committee
In January
CycleWight were invited to attend the Sustainability Committee with other groups to discuss the Rights of Way network. There is a need for the council to draw up a 10 year plan which will be from 2016. The committee asked all the various parties to make a list of paths that they think are missing or need to be upgraded so as to enhance the provision.
At the follow up meeting the collated results were revealed. There was a discussion on how this wish list could be achieved. CycleWight believe that there must be an active effort to look for opportunities to develop the Rights of Way Network by groups such as ourselves. There is a need for the Council, even in these very difficult times, to commit money to finding funding which will benefit local people as well as the visitors. The LSTF shows what can be achieved.
Several people have left the committee of late. We could do with some fresh blood. We meet as a group approximately once a month. It is not onerous. It would be good to be able to hear differing views. The amount of work you take on is up to you but it is always good for the work to be shared around.
Fill That Hole Campaign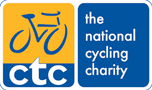 All cyclists need to report any defects in road surfaces.
The CYCLEWight committee suggest that you use the
campaign on the CTC website to report dangerous road conditions. The Government have given the CTC £30,000 to develop this app further.
Using The CYCLEWight Calendar Below

If you click on an event, you may find additional information, or a link to the location of the event. You can easily add these events to your own Google calendar